Apple iPhone Repair in Lincoln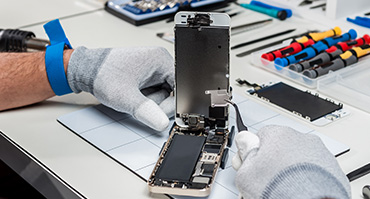 We are a dedicated repair centre.
We offer many different iPhone repairs, from screen replacements or battery replacements right down to component level repairs and liquid damage repair.


When looking for iPhone repairs, there are many companies offering cheap repairs using low quality parts. These include poor copy, low quality screens, batteries that only last a few hours and parts with connections that use cheaper metals that are not built to last.

At Computer Clinik we have a carefully selected group of suppliers and manufacturers. This ensures we use the best possible parts for all our repairs.
Take a look below at some examples of iPhone repairs we offer.
Common iPhone Repairs
Broken iPhone screen?
If you're looking for a replacement iPhone screen, you have come to the right place.

Our supply and fitting of a new screen is guaranteed for 1 year and we only use high quality screens.
iPhone battery replacement?
Every lithium ion battery has a limited number of charge cycles, the maximum capacity reduces and as a result, your iPhone may need to be charged more and more frequently and even turn off unexpectedly
iPhone Liquid damage?
"I dropped my phone in the toilet" is probably one of the less "fun" repairs we do but nevertheless, we are still thrilled when we give you your iPhone back all minty fresh so you don't loose those precious photos.
iPhone not charging?
Sometimes this can be something simple and other times it means a component level repair on the board due to cheap £3 chargers or £1 cables used on a £700 phone.
Either way, we can fix it.
iPhone button issue?
We can repair home, volume, mute or power buttons.
Sometimes these just stop working or start to be temperamental.
iPhone sound repair?
We can repair or replace your iPhone loudspeaker or earpiece if you are having issues with the sound output.
If your microphone stops working or crackles and cuts in and out, we can repair or replace your microphone.
Featured services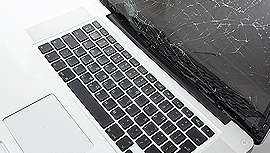 Broken MacBook Screen?
We can repair your MacBook for an affordable price, even if the whole screen is smashed. Give us a call today for a free quote and find out just how affordable it will be.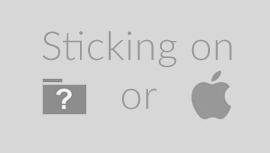 Flashing question mark or stuck apple logo?
When your Mac won't start up and just sticks on the apple logo or shows a flashing question mark. Don't worry, we can usually recover your Mac keeping all your personal documents and in a lot of cases EVERYTHING stays exactly as you left it.