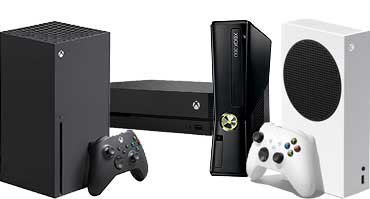 We are a dedicated repair centre.
If you're looking for professional, reliable and fast XBOX repairs in Lincoln or even Lincolnshire, Computer Clinik are here to help. With a vast range of high quality equipment and skills, we have the ability to deal with almost every issue relating to repairs upgrades and maintenance of XBOX consoles. Even other repair companies use our services for many of their repairs.
We can repair all versions of XBOX console, from the older XBOX consoles like the XBOX 360 or XBOX One repair to the newer models such as the XBOX Series X repair or XBOX Series S repair
Take a look below at some examples of repairs we offer for XBOX consoles.
Common XBOX Repairs
Wont connect to WiFi?
If your XBOX has stopped connecting to WiFi, don't worry.
Drop in the XBOX and we can get it checked for free to see what needs repairing.
No display on screen?
One of the most common faults on the XBOX is the no display issue. Sometimes you have sound and no display, somtimes its nothing at all.
This can be caused by a number of things, but typically its the HDMI port that has been damaged.
We can replace the HDMI port under our digital microscope and offer a 1 YEAR WARRANTY with the repair.
Locking up & freezing during a game?
If your XBOX has started locking up during gameplay or during loading a game, it's likely to be either the Hard Drive or the Optical drive causing the issue. Hard drives develop faults that can usually be fixed and the optical drive usually develops a fault within the laser.
If you drop in the console we can test it for free and see which problem it is.
XBOX not opening the tray?
On some models of XBOX, the drive tray mechanism starts to wear causing the drive to stick closed. We can strip the drive and repair the fault. We offer a 1 YEAR WARRANTY on this repair.
XBOX Overheating?
Over time the XBOX does get very dusty inside.
We can strip down your XBOX and give the internals a good cleaning. We will also re-paste the CPU, GPU or APU depending on the model.
Failed update or update issues?
When the XBOX won't perform an update or something happens during the update process, we can check to see what is causing the issue and complete the update for you. Usually the XBOX shows an error on the screen to show there is an update issue.
Featured services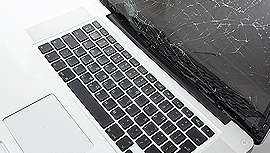 We can repair your laptop for an affordable price, even if the whole screen is smashed. Give us a call today for a free quote and find out just how affordable it will be.
If your machine is showing popups or running slow you will most likely have viruses. We can check for free to see and only charge to remove them.