Frequently Asked Questions
Do you offer pick up and delivery?
Yes, for a small charge, we can arrange for collection of your machine, repair or upgrade it and then deliver it back to you.
Do you offer on-site services?
Yes, we offer onsite services. Mostly networking issues and business call outs, upgrades, repairs, maintenance, and some troubleshooting. At busy times of the year, this service may not be available.
Do you give free estimates?
Yes, we will give you an exact price before we start any work so that you know exactly what the repair will cost.
How long will my repair take?
It is very hard to estimate an exact time to repair, as there are so many different faults. Our free diagnosis is very popular and will usually take up to 5 business days (this can be higher at busy periods) as there are typically 60+ machines in to diagnose. Our Fast Track diagnosis will be started immediately and typically repaired within 1-2 days (sometimes the same day)
Do you offer custom built computers?
Yes, we can talk to you to find out exactly what you would like and your budget and then build you the best PC we can within that budget.
Do I pay when I drop off the machine?
When you drop off your machine, we will have a quick chat to fully understand your description of the problem. We will then take your contact details and the details of the machine. You have the option to pay on collection of the repaired machine.
Featured services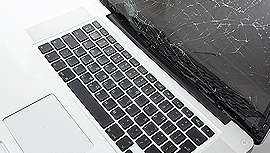 We can repair your laptop for an affordable price, even if the whole screen is smashed. Give us a call today for a free quote and find out just how affordable it will be.
If your machine is showing popups or running slow you will most likely have viruses. We can check for free to see and only charge to remove them.