Laptop Computer Repair in Lincoln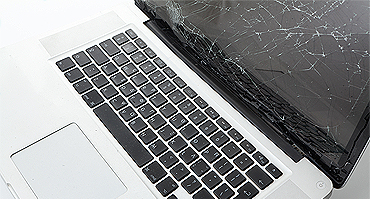 We are a dedicated computer repair centre.
With a vast range of high quality equipment and skills, we have the ability to deal with almost every issue relating to repairs upgrades and maintenance of Games consoles, tablets and Microsoft or Apple Mac based Laptop and Desktop computers. Even other repair companies use our services for many of their repairs.
Take a look below at some examples of repairs we offer for desktop computers.
Common Laptop Repairs
Broken or flickering laptop screen?
If you're looking for a replacement laptop screen, you have come to the right place.
We are on average, 10-20% cheaper than others on laptop screens.
In some cases, our total cost for supplying and fitting your screen, beats the cost of the screen alone from other companies!
Our supply and fitting of a new screen starts at just £69 and we only use genuine screens.
Broken laptop power socket?
Our high quality equipment and skills, give us the ability to offer DC power socket replacements at very competitive prices.
Even other repair companies use our component level services.
Viruses, nasty popups or slow?
If you suspect there are viruses on your laptop because its running slow or there are popups, we can check over the laptop to confirm it.
If there is, we can remove them and install a quality anti-virus program to keep them out.
Keyboard stopped working?
We can replace your faulty keyboard even if you have spilt a drink etc on it.
If we can't get it working, we won't charge.
Broken, faulty or full Hard Drive?
We can supply and fit many types of Hard Drives to replace your current one.
If you need more space, we can clone your current drive over to a larger one so you keep all your files and programs.
We also offer Solid State or Hybrid upgrades.
Broken hinges?
We can supply and fit hinges for many different laptop makes and models.
Featured services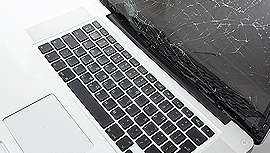 Broken Laptop Screen?
We can repair your laptop for an affordable price, even if the whole screen is smashed. Give us a call today for a free quote and find out just how affordable it will be.
Nasty popups or viruses?
If your machine is showing popups or running slow you will most likely have viruses. We can check for free to see and only charge to remove them.